Will you be the champion for camp week? There will be board breaking, Nerf wars, water wars, movie production, challenging obstacle courses, new friendships. Did I mention the FUN? Learn martial arts for self-defense and to deter bullies, earn a belt rank, cool demo moves and so much more!! Don't miss the fun!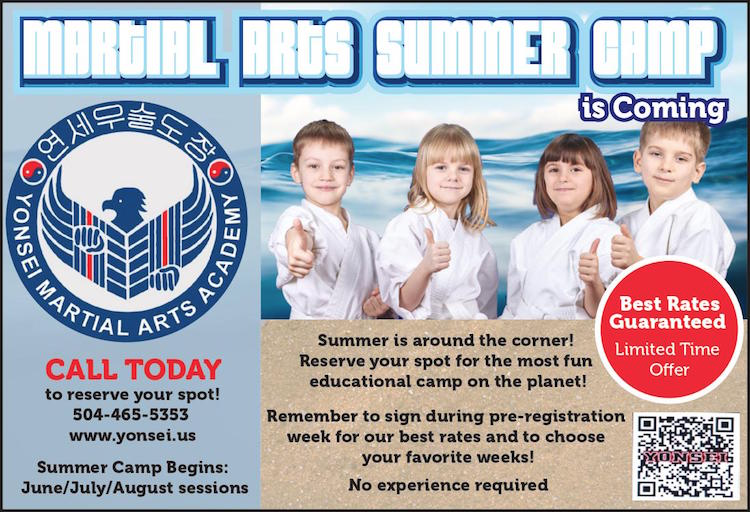 Pre-Registration Discount
Show this ad when you pre-register by May 18th to receive a 20% discount on the registration fee!
* $99 down for registration fee without the discount.
* $35 deposit (nonrefundable) down to reserve each additional camp,
* balance due for each camp on the first day of each camp.
(The rest is the same as currently online)
Each session is Monday-Friday
Time: 9:am - 3:30pm
Drop off/Pick up 7:30am/5:00pm for working parents.
==========================
Choose one or more of the 3 camps when you register.
Camp One: June 10-14
Take 5 & Action Camp
You're the star! Make your own warrior movie!
---
Camp Two: July 8-12
Minute to Win It Battle Camp
Will you be the ultimate champ?
---
Camp Three: August 5-9
Ninja Warrior Camp
Do you have what it takes to earn your rank in the Ninja Warrior Hall of Fame?
==========================
NON STOP ACTION
Each day includes the following:
3 hours of martial arts warrior theme fun training.
3 hours of fun theme games and activities that challenge their warrior mind, body, and spirit
Campers bring their own lunch and snacks.
Campers get a free warrior t-shirt and a string bag.
================================
Warrior character of self-control, focus, discipline, respect, confidence, balance, agility, flexibility, bully defense, setting goals and achieving them, plus cool moves are just a few of the things learned while having FUN, FUN, FUN!
ONLY $199 per week!
(includes registration fee)
July camp has a few spots left. Sign up before June 26th and receive a 50% discount on the registration! You pay 49 to register and $100 for the camp.
Make an appointment to reserve your spot on the mat by clicking HERE!