Will you be the champion for camp week? There will be board breaking, Nerf wars, water wars, challenging obstacle courses, new friendships. Did I mention the FUN? Learn martial arts for self-defense and to deter bullies, earn a belt rank, cool demo moves and so much more!! Don't miss the fun!
ONLY $199!
(Includes the $99 registration)

Our Spring into Action 30% discount on the registration is for the first 5 who sign up by March 30th.
Minute to Win It Ninja Warrior Battle Camp

Do you have what it takes to earn your rank in the Ninja Warrior Hall of Fame and be the ultimate champ?

Camp Date July 13-17

Camp Time: 9:00am - 3:30pm

Drop off/Pick up 7:30am/5:00pm for working parents.
================================
NON STOP ACTION
Each day includes the following:
3 hours of martial arts warrior theme fun training.
3 hours of fun theme games and activities that challenge their warrior mind, body, and spirit
Campers bring their own lunch and snacks.
Campers get a free warrior t-shirt and a string bag.
================================
Warrior character of self-control, focus, discipline, respect, confidence, balance, agility, flexibility, bully defense, setting goals and achieving them, plus cool moves are just a few of the things learned while having FUN, FUN, FUN!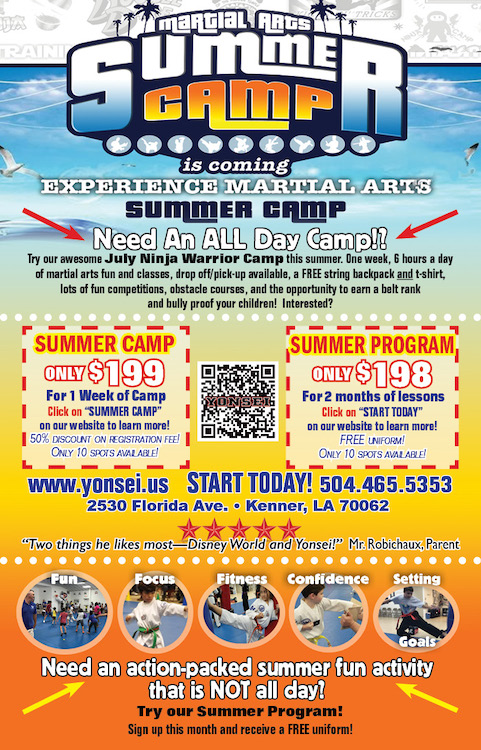 If you are looking for something that is not all day, try our Summer Program!
$198 for 2 months of classes in the afternoon or evening.
June 1 - August 1
Flexible schedule between 4:30 pm and 6:45 pm.
1 FREE uniform and 1 Free Cinch bag.
We only have 20 spots available this summer. Sign up before February 29th and receive a $30 gift card to use for any Summer Program event!

Make an appointment today by clicking on the button below!